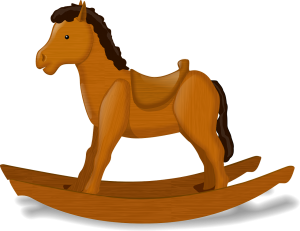 There are many kids who have ridden a wooden horse, or they have ridden a toy horse. The meaning of cock-horse in Ride a Cock-Horse to Banbury Cross has history in the fact that kids would ride these pretends horses, or on the backs of their parents, before they rode real horses. There were many people who were in the countryside of England where they learned to ride horses, honoring their heritage. This heritage lives within this nursery rhyme, and that is why the cock-horse to Banbury Cross exists. These horses were the first horses kids ever rode, and it is something that we do even to this day.
The History And Meaning
You likely had a toy horse when you were a young child, or you may have a wooden horse in your home right this very second. Your kids may ride that horse for fun, and this goes all the way back to the Banbury Cross rhyme. The meaning has lost clarity in the transfer from England to America because the American culture did not hold onto all the traditions that they left behind on Britain. The meaning of this rhyme is all in what kids would ride before they rode real horses, and the history of the rhyme goes back to Banbury Cross being an important thoroughfare where people who were moving around England would go. Families who traveled would come through this place, and it was likely that a British child would have gone through there at least once in their life.
Why You Should Learn It
Learning this nursery rhyme will call you back to the time when wooden horses were very popular for kids to play with. Their parents would sing it to them to ensure that they were having a good time while riding, and it was a fun time for all who were playing. You may teach this rhyme to your children, and they will learn something about their heritage that could go all the way back to the British Isles. You will enjoy singing it with your kids, and you will feel as though your children are having a new experience that teaches them about history.