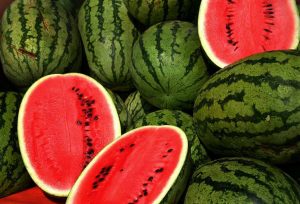 Many nursery rhymes are wonderful when they become an interactive memory game! You will love watching your little one's sing and dance to this enthusiastic melody. Just the first sentence alone will fill your child with giggles. Down by the Bay Where the Watermelons Grow is a classic nursery rhyme with growing popularity.
WHAT IS SO FUNNY?
This nursery rhyme is full of knee-slapper laughable moments that bring out the goofy in every kid. Where else are you going to find a rhyme that asks you if you have ever seen a fly wearing a tie, or if you ever saw a bear combing his hair? And this nursery rhyme is full of comical punch lines like this that keep your child jovial while they sing. So the next time you hear somebody asking if you have ever seen a llama eating pajamas, just know they are not crazy, they are actually singing a nursery rhyme full of silly questions.
WHAT SKILLS GO CHILDREN AGE 0-5 LEARN WHILE INTERACTING WITH THIS SONG?
This nursery rhyme can boost early learning development. It can also teach your help your child learn social skills and promote a sense of community or family. Bottom line, loving this nursery rhyme is going to open your child up to reading. By memorizing this nursery rhyme through repetition they are building their social and communication skills by building their vocabulary.
WHAT TOPICS DOES THIS NURSERY RHYME HELP KIDS AGE 0-5 EXPLORE?
Children will love exploring the way the sentences rhyme and they will also love exploring all the funny animals in this rhyme. It makes them ask themselves questions and then answer them. This in itself is your child's first introduction to reading comprehension.
HOW CAN PARENT AND TEACHERS USE THIS NURSERY RHYME TO TEACH?
By singing this nursery rhyme with a child age 0-5 you are teaching them how to interact, you are also helping them memorize. You are also teaching them about creative reading and writing and you are exposing them to a historical nursery rhyme.