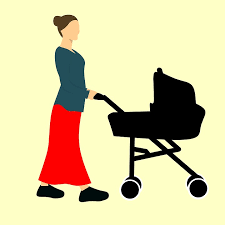 What Are Great Mother & Child Bonding Techniques
Bonding with your child can have many great benefits for a mother. It creates a communication gateway. Bonding can also make your child feel safe. It presents a unique opportunity to learn your child's strength and weaknesses. You can also improve their interpersonal skills with other people. Creating a bonding opportunity for a mother and younger children can be done in several ways with rhymes. You should find a bonding technique that works well for you and your child. However, nursery rhymes continues to be a great way for a mother and child to bond.
What Is A Great Rhyme Used For Bonding With Young Children
The Wheels On The Bus
The Wheels On The Bus is a great rhyme that encourages your child to participate actively. This rhyme requires a few skills that will help a mother and child bond, but also check their cognitive skills. For example, to bond with your child using this rhyme, they must be able to use their hands along with their voices. The Wheels On The Bus is also an easy to use rhyme for children 0-5 years of age along with being a strong bonding tool.
What Does The Wheels On The Bus Teach Your Child
The Wheels On The Bus is more than just fun for kids. This fun to use rhyme teaches them two things. The first thing this rhyme teaches your child is movement. To actively participate in this song, your child must move their hands along with the rhyme. If your child learns from auditory-musical skills, they learn from music and sound. Your child learns by hearing, but also through kinetics by learning from what they see. These two learning skills help you and your child bond too.
Additional Learning Skills Of This Popular Rhyme
This familiar rhyme also teaches your child how to socialize in a fun way. The hand motion allows them to actively participate with other children, but bond uniquely with their mother at the same time. Your child is ultimate using their body and hands. They learn by visually seeing what you're doing and following in your foot steps each time this particular rhyme is used. Your child also learns how to use individual vocabulary and extraordinary motor skills. In fact, they learn about the functions of a bus. You're teaching your child how transportation works from the use of a rhyme.
How Wheels On The Bus Enhances Educational Skills
Teachers and parents can teach their children roleplay. They learn how to become the actual bus by using their hands and by participating. This is a unique role that both parents and teachers can use by teaching their child/student this rhyme. Teachers and parents can put on a bus driver cap, use a circular object as the wheel, and invite children on the make believe bus. Learn how the Wheels On The Bus can help your child bond with their mother by visiting online today.