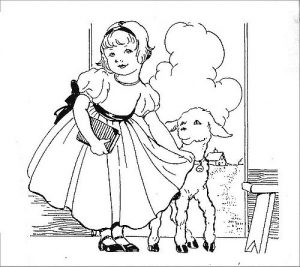 If you're exploring education ideas for your child under 5, don't underestimate nursery rhymes! It is a fact that music helps memory! Pair that with a melody that rhymes and your child is all set! Nursery rhymes help develop your child's attention span, language skills, socializing, vocabulary, and so much more!
Here are 4 educational
nursery rhymes songs
you should teach your child today!
I prefer a nursery rhyme that doesn't have any sinister connotations. Mary had a little lamb may not be an ancient nursery rhyme, but at least it's pure of heart!
It's based on a true story. A girl named Mary Sawyer inspired the story by bringing her pet lamb to school one day when her brother suggested it. A school teacher named Sarah Hale saw this and quickly wrote it down. It was published in 1830.
This nursery rhyme is great for developing child's cognitive function and helping them with English sentence structure! It is short so your little one won't get bored, and this will help him or her with listening endurance!
Twinkle, Twinkle, Little Star
Although it has been rumored to be written by Mozart, this nursery rhyme originated from a poem written in the 19th century by Jane Taylor. It's more of a lullaby than a nursery rhyme, but it has such a lovely melody any kid could remember it! Twinkle Twinkle is a great song for learning and memorizing new vocabulary. Toddlers aren't ready for long stories, so short nursery rhymes are a great way to engage your child in a first story which will inspire him or her to read books later in life!
Wheels on the bus
This nursery rhyme teaches kids about actions, verbs, and functions of the things we use in daily life. I would say "Wheels on the bus" is one of the best educational nursery rhymes for children under 5. Its repetition helps build memory and an understanding of how life works!
Verna Hills of Boston is often rumored to be the creator of this song in 1939. It was likely written to entertain and calm kids who were riding the bus. It is structured so to be easy for children to learn so they can socialize and all sing it together! There are no scary hidden meanings of this song and that is another reason it's great to teach kids!
5 little ducks
This song is a great addition to education for kids! It's a great way to teach your child how to count. It also has a tune with finger play, so your child will learn to associate real-life objects with numbers! It has been scientifically proven that motion and melody are a great concoction for memorization! This nursery rhyme will equip your toddler to be a better reader. They will be able to match words they read by hearing the words in the sounds. When children act out rhymes such as this one, it helps improve fine motor skills and coordination. Never underestimate the power of nursery rhymes!