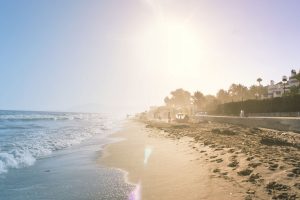 Nursery rhymes are a fun way for children to learn while playing, dancing and singing. When set to music they help with a child's development and are an amazing teaching tool. For example, they help children develop language skills by featuring different sounds in the English language.
Nursery rhymes were introduced in North America in the mid-18th century and are sometimes also know as Mother Goose rhymes.
This summer, your kids can enjoy some nursery rhymes that are classics, such as Mr. Sun, How Many Seashells? and A Tisket, A Tasket.
Mr. Sun is a classical American children's song. This summer, have some fun while singing and dancing along to Mr. Sun with your kids. This catchy tune will put a smile on your children's faces as they sing, "Oh Mr. Sun, Sun, Mister Golden Sun".
Also help your children learn to count with the classic nursery rhyme How Many Seashells?:
How many seashells can you see?
How many seashells? One, two, three.
How many seashells can you mix?
How many seashells? Four, five, six.
This popular nursery rhyme is lots of fun to say out loud and will make learning a more enjoyable activity.
Some of these nursery rhymes are really old too, like the traditional American nursery rhyme, A Tisket A Tasket. A Tisket A Tasket is over 100 years old and was first published in 1879. This rhyme is a lot of fun to sing with a large group of people. While singing, the children sit in a circle while one child runs around the other children. The child that is circling around the other children drops a letter behind someone's back and is then chased by that individual. A Tisket A Tasket has been a great game for children to play and sing along to for over a century. This summer, don't miss out on enjoying this timeless rhyme.
So remember, you can help your children learn with fun nursery rhymes, such as Mr. Sun, How Many Seashells? and A Tisket A Tasket. This summer is a great time to start!