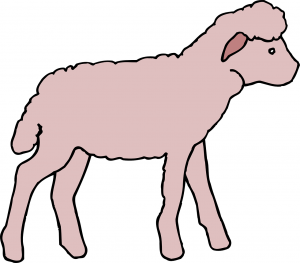 Mary Had A Little Lamb is one of many favorite childhood nursery rhymes. The poem, written by an American teacher and author named Sarah Hale (1788-1879) was published in 1830 in a volume titled Poems for our Children although it is thought it was written much earlier.
The song's origin was inspired by a true story. The brother of a girl named Mary Sawyer dared her to take her lamb to school one day. Mary hid it under her desk and covered it with a shawl however when she was called to the front of the class to recite, the lamb followed behind her. While this amused the class and the teacher, Mary had to leave the lamb in the yard for the rest of the day.
Mary's actions also caught the attention of a young man named John Roulstone who was at the school that day. John was preparing for the seminary and he was enamored by the lamb's presence, he gifted Mary the next day with the original three stanzas of a poem inspired by the event yet still it is believed that Sarah Hale wrote most of the Mary had a Little Lamb published nursery rhyme.
It is also believed the nursery rhyme had a hidden religious meaning. It is thought that the lamb is based on Jesus. In John 1:29, Jesus is referred to the "lamb" who takes away the sins of the world and his fleece, which white as snow, symbolizes the purity of Jesus and "Mary" refers to the Virgin Mary.
In 1901, the collection of nursery rhymes titled Mother Goose Mary Had a Little Lamb was published with original illustrations by William Wallace Denslow.
The music for the rhyme was written by Lowell Mason in the late 1830's.
In 1877, Thomas Edison made one of the earliest recording of the human voice by reciting Mary Had a Little Lamb on his phonograph device.
For any one visiting the area of Sterling, MA, they will find a statue of the lamb in homage to Mary's little pet.
From the tales of Mother Goose Mary Had a Little Lamb will continue to be enjoyed by children for more centuries to come.  Click here for some more Mary Had a Little Lamb resources.