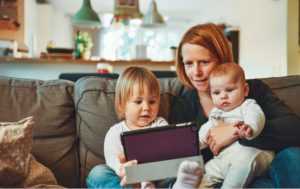 Teaching toddlers can be very difficult if one does not know the manner in which they should carry it out. The use of songs can attract the attention of toddlers and produce learners who are better able to grasp patterns in language and preschool topics and concepts.
Using song videos can be a good way to introduce new songs and, when used in moderation can help toddlers recall information and practice language patterns in a healthy way.  As babies watch videos and sing and dance along, their minds and bodies develop.
The use of some of the best song videos out there can help make connections in the brains of young children and even inspire opportunities to practice hand and eye coordination with finger rhymes or simple choreography.  Using video as a piece of a young child's education can provide new ways to access familiar information. It's great when mom or dad reads a nursery rhyme to a child before bed and then the following day they watch a video, sing a song or play a game using that rhyme as the point of inspiration and focus.
Historically, some of the best programs for toddlers have included Sesame Street and Mr. Rodgers' Neighborhood. YouTube has a Kids app specifically for parents to curate content for their children in a safe setting and there you can find great nursery rhyme song videos from creators like Mother Goose Club and Super Simple Songs.
When you're picking out what types of song videos to share with your child, it's best to make sure the topics are appropriate – family, community, shapes, colors and seasons are a great place to start.  Song videos that rhyme will help your child start to pick up on the patterns of speech in the English language. Videos you choose should not feel too fast – kids should be able to easily understand and follow along.  And finally, videos for children should inspire activity – kids should want to get up and participate!