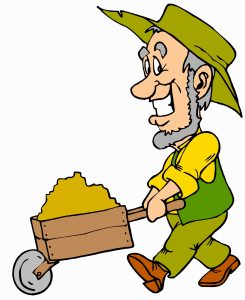 The Farmer in the Dell started in German long ago, and the lyrics change a little bit from one country to the next depending on how they interpret. It has characters and animals that you will remember because they all play a part in the story. You can teach this one to your kids before they go to preschool, or they might learn this nursery rhyme when they get to school. The farmer had a really full life, and we will talk about the English version that most kids will hear in school. It is really important for someone to learn this song before showing the kids, and teachers can show the kids how the song became what it is today.
The Man
The man, or the farmer, is the first person in the story, and he is just out in the dell. This is very indicative of the agricultural society that these people used to live in.
The Wife
The man has a wife after that, and they get married and are very happy because of it. This is a lot like the normal life cycle of most couples, and you could even teach your kids about other types of couples if the person on the farm was a woman and she took a wife.
They have a child after that that is very interesting because that is how the kids learn where they came from. They can compare their family with what they see in the song, and they will be interested to know when their parents got married and when they had them. That is usually a good talk for parents to have with their kids because they want their kids to be interested about their history.
The Nurse
The nurse helps take care of the kid, and the nurse becomes a part of the family a lot like some TV shows that you might remember, like Mr. Belvedere or The Brady Bunch. This is something that was very common back in the 1700s and 1800s.
The Cow
The cow is part of the family because it is how they started the farm. This is something that is almost like a pet. There are a lot of people who are going to notice that they are just building a really typical farm. This means that the people that are learning about history can see how history was built in these agricultural societies.
The Dog
A lot of people had a dog because it was safe to have something to guard the farm. This was important because it played between the dogs and cats as they went on with the song.
The Cat
The cat in the story is just the counterpoint to the dog, and it gives the people who like the song a reason to sing along because it reminds them of the fact that they are able to get some insight into how their family was made through this song.