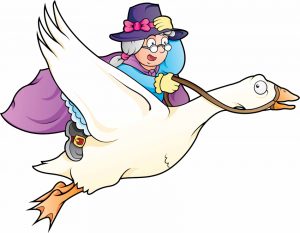 Out of the many children's tales popular today, Mother Goose is one of the most widely used series of stories and songs. Touching on an assortment of important life happenings, it helps children get a start on reading and watching, and the benefits from each. Enjoy the longstanding stories while helping your child learn repetition, family standings, and even different locations.
The Many Characters
As no one person is credited with authoring all of the stories, an image that most bring to mind is of a caring mother. Mother Goose rhymes can be in line with the original actual Goose figure in a bonnet or those of a matronly woman with a shawl and hat. In today's popular culture, the characters have changed countless times. This does not detract from the messages from each however.
The Countless Ways
The methods in which you can get your child to learn the stories are through movies or television, which help them visualize the story and learn small details. Youtube has versions of its own, as many independent companies can present theirs from that standpoint. Books are not a lost art either, as some of the older varieties contain the basic morals from the original versions. Try a combination of all to get your child the full experience of different takes on the subjects.
The Variations
Some of the examples depend on the area and culture the stories come from. French and English types may differ from each other with things relevant to the places and settings for each. Other lesser known areas will include things pertinent to their daily life. Check our some great examples from YouTube below:
Wheels on the Bus Go Round and Round
Included Works
The number of stories credited to the Mother Goose line number in the hundreds, so it is not hard to find one to try out. Simple starter poems like Baa Baa Black Sheep are there, as well as Humpty Dumpty and Jack and Jill classics. The well known Miss Muffet, Twinkle Twinkle Little Star, and London Bridge are not left off from notice.
Why Use Them
Employing fairy tales to teach children what to do, or have some moral lessons thrown in without notice, is an age old tradition. No matter the community, knowledge of aspects of life are vital to include when getting the next generation prepared for what could occur. Songs like Head, Shoulders gets them used to body parts, while others may indicate body features, family connections, or just have fun with animals.
Let your child experience learning with fun story lines and characters, and encourage them to read and sing along and stimulate aspects of their young minds. By providing them with many stories of creative things, their joy for education can be started early. Catch a show or video of the rhyme and see your child's response.